Experienced and extraordinary — here at Syncit Group, we deliver state-of-the-art solutions to help our clients achieve their goals and scale even the most daunting challenges. With offices in Belgrade and Niš, Serbia, our team offers a plethora of services ranging from eCommerce development, mobile app development, website development, and so much more.
In light of our partners' tremendous trust, it's a huge pleasure for us to announce exciting news to all of you. During the most recent Clutch Leaders Awards, Syncit Group was named as one of the top-performing eCommerce developers from Serbia in 2022!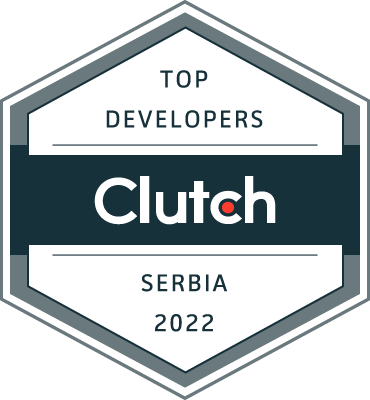 "Our company has been recognized as a Clutch Leader! We are so excited and grateful to the Clutch team and our loyal clients who have chosen Syncit Group's innovative and reliable solutions." — Ivan Stanković, CEO of Syncit Group
Clutch, a B2B reviews platform, is known for its extensive collection of data-driven client testimonials, in-depth market reports, and agency shortlists. The website annually holds an awards cycle to celebrate and highlight the top-tier companies that exemplified unparalleled excellence. Each leader meets and exceeded Clutch's strict selection criteria that took into account several dynamic variables.
It's a big honor for us to receive such an esteemed award, especially knowing that we earned it because of our clients' support and amazing reviews. From the entire Syncit Group, thank you so much to everyone who believed in us! We are grateful for every opportunity and project — whether it's big or small. Cheers to more exciting possibilities ahead!
At Syncit Group, we help your business expand and thrive! Interested to see what we have in store for you? Drop us a line or give us a call — we can't wait to hear from you.