Many IT companies have the same issue – finding the appropriate tool to help them improve the management of their teams and projects. Challenges are numerous – creating and assigning tasks and subtasks on a daily basis; setting deadlines; reassigning developers from one project to another; time optimization for the purpose of productivity; following timeline; avoiding a large number of Project Managers who would follow all these processes.
Teamwork is an excellent Project Management tool that allows all of the mentioned processes, as well as some additional ones. What's best, all of the processes can be organized and managed in one place.
Main Advantages
As the tool has a vast variety of options, we are going to focus only on those that help us organize our time and projects.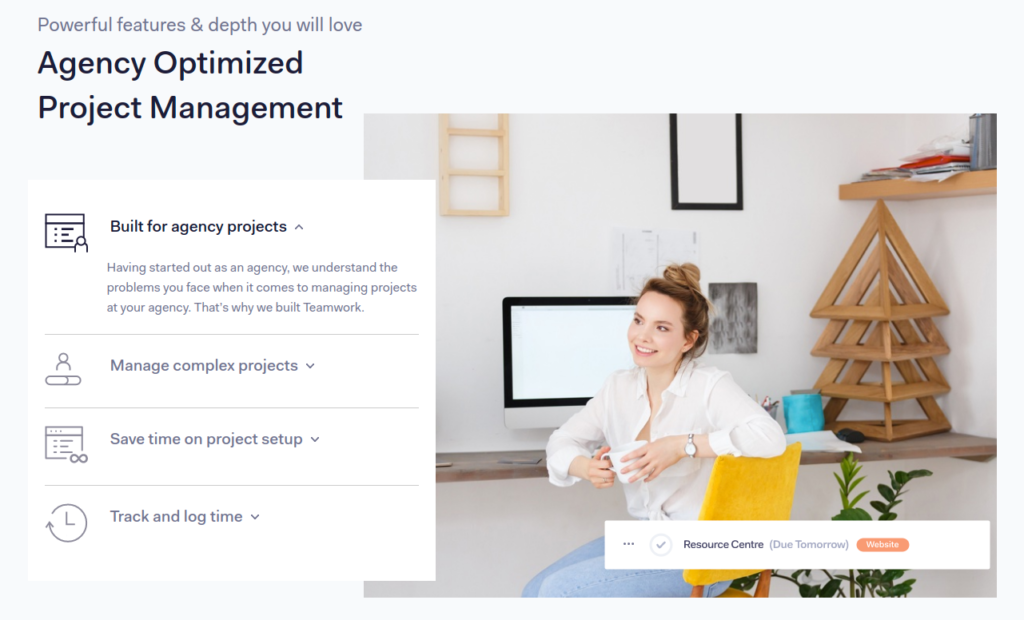 Projects
One of the main advantages of Teamwork is an amazingly applicable design and setup of intuitive options that can be used. On the Projects page, there is a preview of all projects as well as other useful account-based information.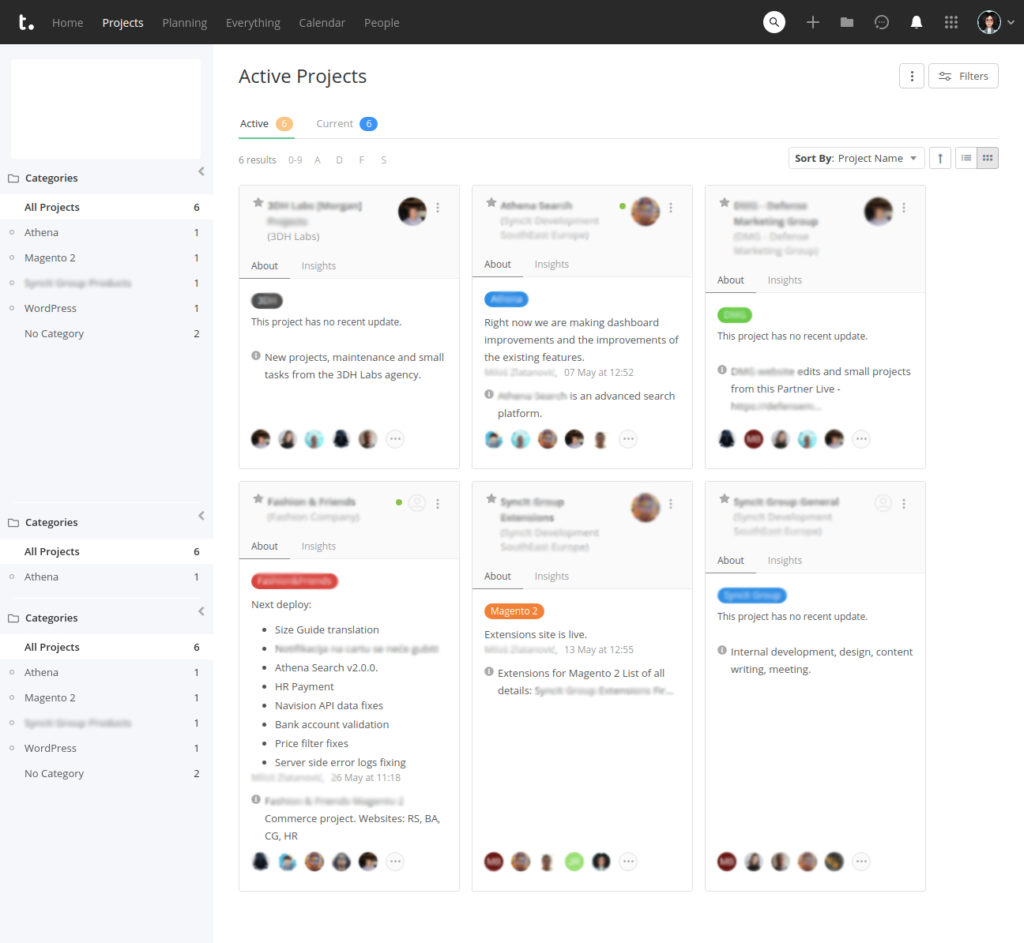 Each project has got a lot of its own settings, and the impression is that each of the settings has its own settings. So, we believe that this tool can be completely customized based on your needs.
In addition to the List and Grid preview options, Teamwork offers a whole set of filters in order to ease and narrow your search. This is especially important for companies with a large number of projects.
Once you create/choose the desired project, a whole range of possibilities opens up allowing you to cover all aspects of the project.
Project Overview
Project Overview allows you to preview all the activities of a project as well as different types of tasks. Moreover, you can preview all team members working on the project, as well as the project timeline, milestones, tags, and many more useful things.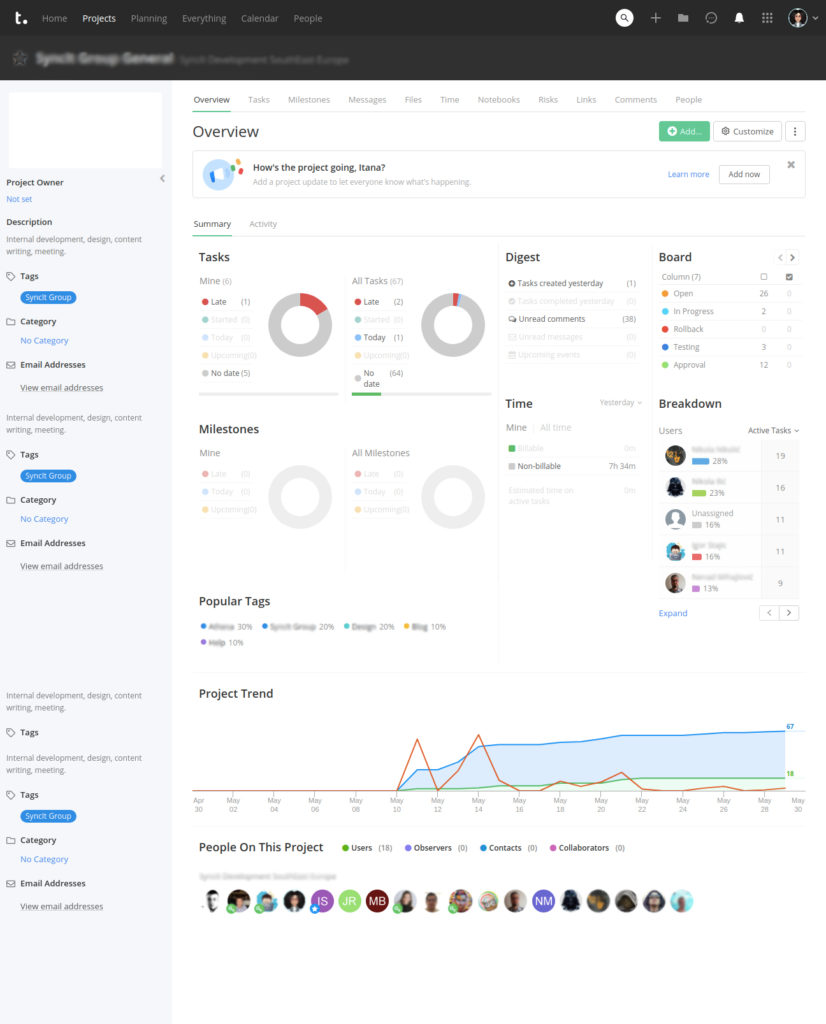 Tasks and Task Assignment
One of the most useful tabs/options, on which both Project Managers and developers spend 90% of their time, is the Tasks tab. The first thing that awaits you within this tab is certainly creating task lists. However, this seemingly simple functionality has a vast variety of options to choose from, in case you want to.
In addition to the task list description, it is possible to set the privacy thus limiting the task list visibility to specific team members only. Then, you can set milestones and even some advanced options like "pin this list so that it never gets closed". Also, you can choose a custom template and set up specific options. Of course, if you did not choose a setting while creating a task list in the first place, you can always click on "Edit" and change the behavior of the task list.
When it comes to task assignment, Teamwork offers probably all of the options that you will ever need. Depending on the project, our company tends to use all of the available options. In order to avoid listing the options, here are a couple of screenshots that will describe what we want to explain.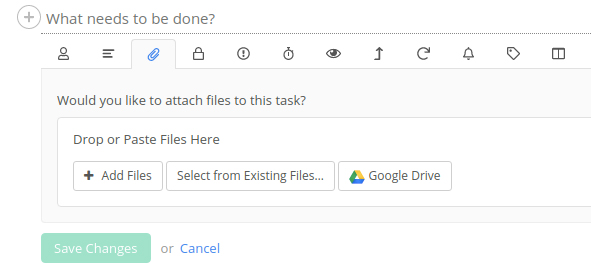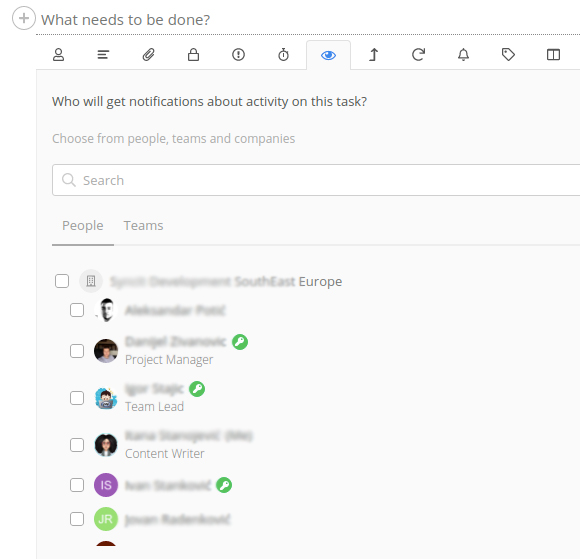 Messages
Another useful project-related option is Messages. This is an extremely interesting option since it enables you to easily communicate with your clients by receiving their requests directly via Teamwork. Moreover, you can choose whether to share an insight into other project options with your clients or not. This way, every team member will be able to see the client's request. The message reply, although sent via Teamwork, is received via email as well, which allows the client to continue the communication without reentering Teamwork.
Adding Files
Adding files has always presented a problem since various online tools offer a limited space filled too fast by even the smaller companies. Here, the problem is solved with a couple of integrations, some of them being Google Drive, Dropbox, and OneDrive. Thanks to the integrations, you don't need to upload the files on Teamwork, you can use direct links instead.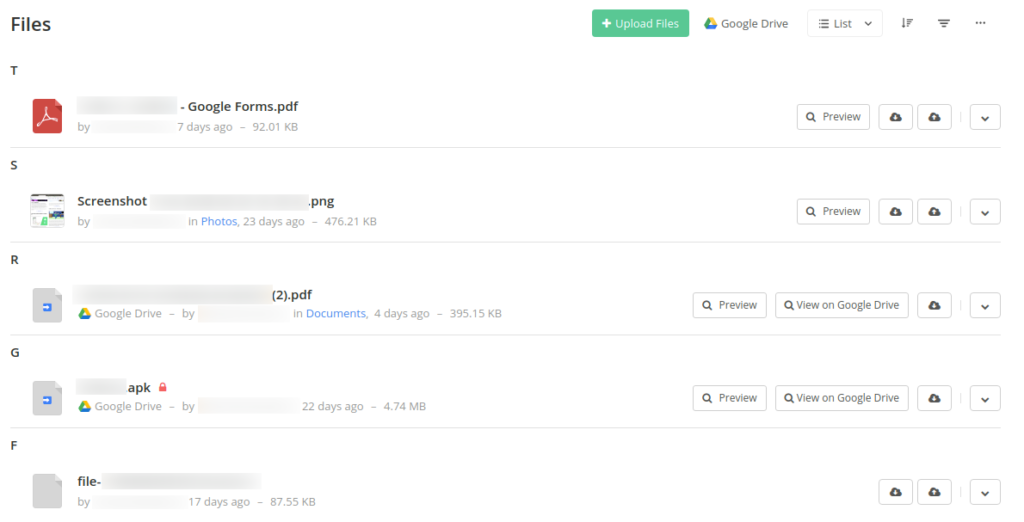 Logging Hours
One of the most important options, at least for our company, is certainly the Hours review. It allows you to perform many important tasks, such as the following:
Track the time spent on a specific task
Review the time spent on tasks during the previous/current month
Review the time that a certain developer has spent on a project so far
Get an insight into billable and nonbillable hours
Add additional hours instead of a team member (provided that you have Admin privileges)
Reports Export
There is another time-saving option that we enjoy using – Reports Export. You can filtrate reports by choosing one of the popular formats like PDF, DOC, XLS, PPT, TXT, etc. This way, with minor corrections, the report is ready to be sent to a client or management if and when needed.
Notebooks
The Notebooks option is one of the most convenient ones. You can keep meeting notes and project-related credentials (provided that they are not too important, bearing in mind potential safety issues). Also, you can use this option for describing a new functionality and manage the document versions.

Calendar
In addition to numerous project management options that are certainly our main focus, Teamwork offers a variety of other interesting tools, one of them being the Calendar option. Within this option, you can review team members' availability, project/task deadline, team's or company's planned activities, and much more.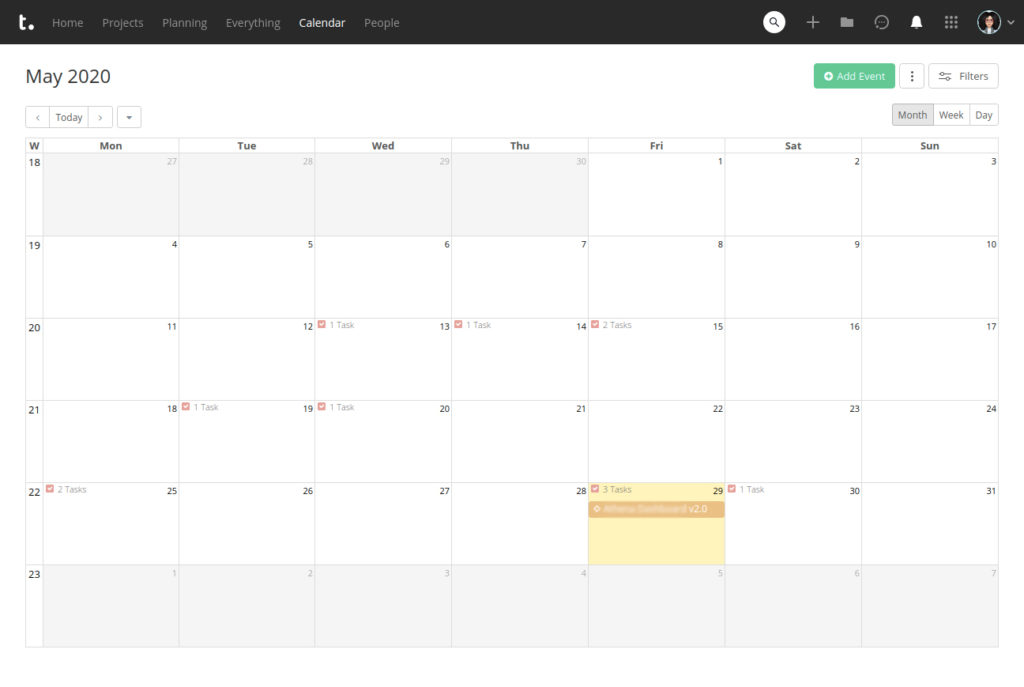 Tracking
If one of your priorities lies in tracking each team member individually, Teamwork has got you covered. You can keep track of their previous or current work, the number of tasks, billable and non-billable hours, and productivity level on a daily, weekly, or monthly basis. This PM tool offers a lot of additional options with suboptions that will help you get a detailed insight into the work of your developers.
Teamwork Chat
If you want to chat with developers that are working on a certain project, you can easily do so via Teamwork Chat, yet another option that can be very handy if you want to use a single tool to meet all of your needs.
Quick Add
For those of you who have been using Teamwork for a while now and are well-aware of every single option, this tool offers the Quick Add functionality. It enables you to add almost everything you need without digging deep into a project.
Search
Teamwork has got its own search that segments the results very neatly. Moreover, it provides additional filtering in order to help you reach the desired information more easily.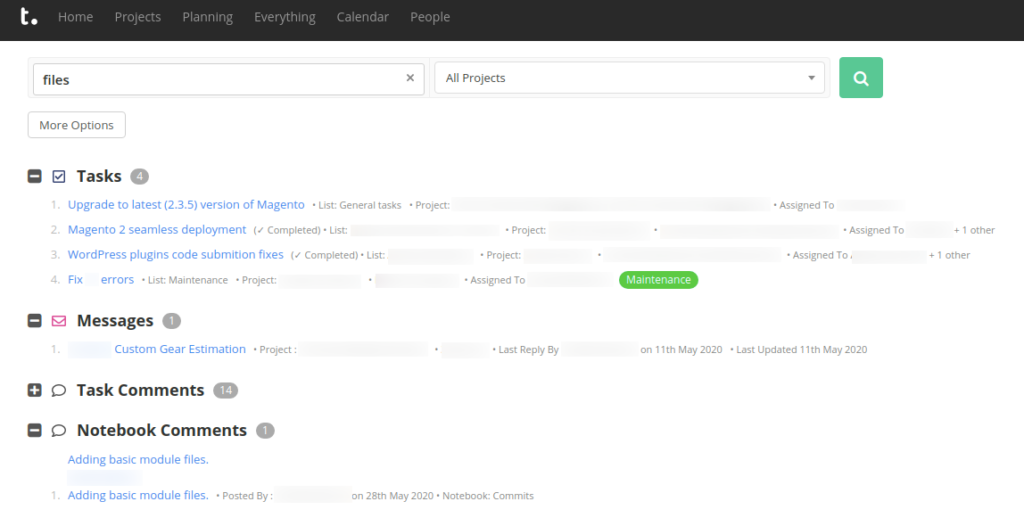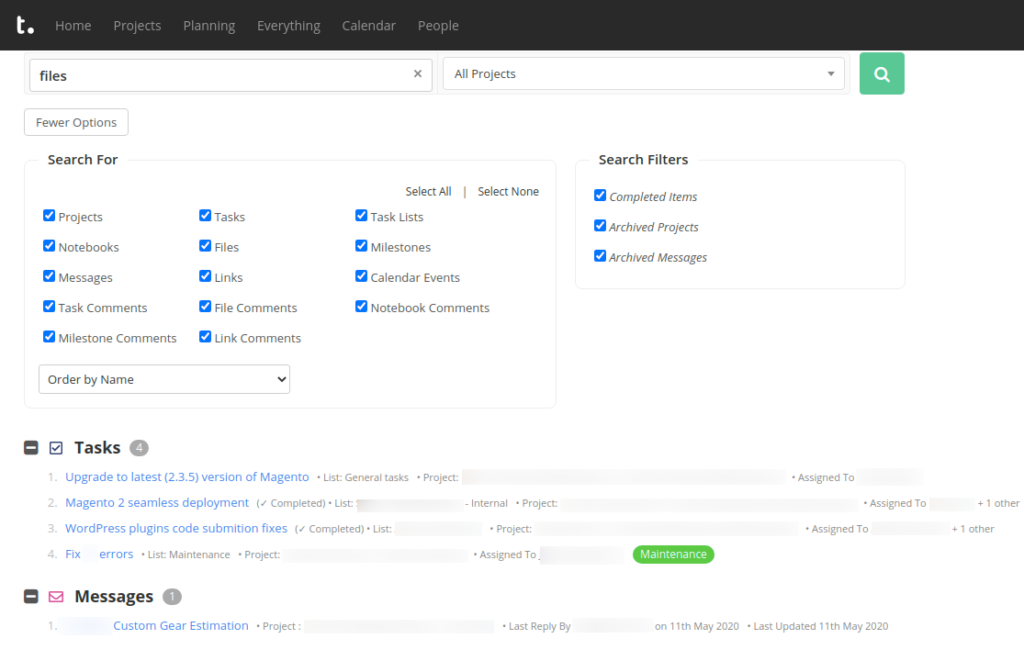 Board View
In case you use agile development, this tool offers the Board View option. It enables you to create and set your boards, transfer tasks from one board to another, and maintain an easy insight into task status.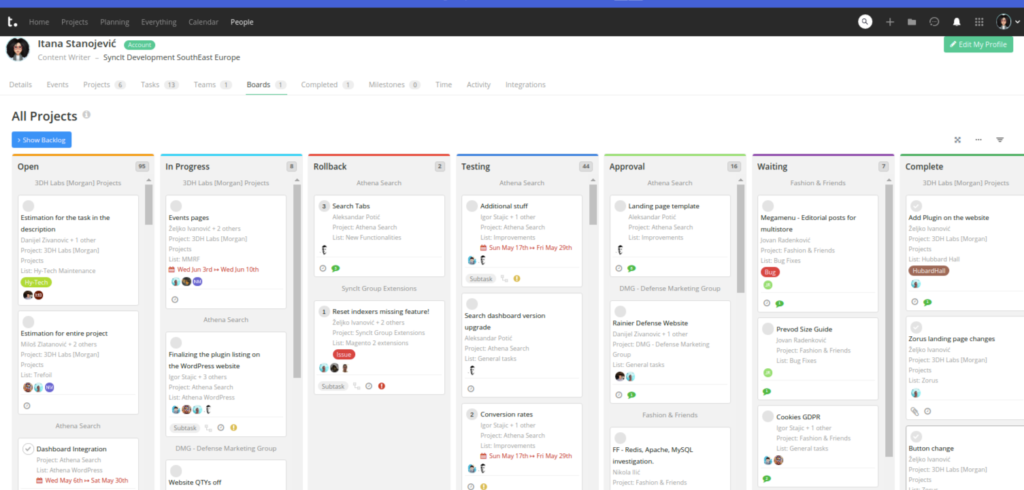 Filters
The thing that helps us a lot on a daily basis are filters. Teamwork allows you to filter, well, almost everything! Each view has its own filters, which allows you to reach even the tiniest piece of the desired information. Also, if you wish, you can gain macro insight into it.
Teamwork Tools
We would like to highlight the existence of Teamwork's tools that can be additionally integrated. Also, there is the possibility of integrating this amazing tool with other external tools. Although the list is far from small, we have encountered a problem. There is a lack of integration with an open-source distributed version control system.
Wrap Up
Whether you have numerous projects or a product developing in segments, Teamwork can easily be customized to suit your workflow. If we haven't described something of great importance to you, chances are it exists within this tool. For now, we have covered only a portion of the vast possibilities of this tool.

Do you like some of the options that you have just read about? If your answer is yes, you should test or start using Teamwork. For that purpose, you can use our partner link. Should you have any questions, do not hesitate to contact us at [email protected]