When establishing an online store, you ought to take many things into consideration. One of them is choosing the most suitable eCommerce platform for your business.
How to Choose the Best eCommerce Platform?
From the vast variety of platforms, you should choose the one that is going to put you on the map as fast as possible, and enable you to stay there for a long period of time.
Moreover, it should provide 24/7 technical support and it should, of course, have excellent performance and design based on the latest designing trends. Is there such a platform? We think so – it is Magento 2 Commerce.
Today we are going to take a closer look at some of the main characteristics of this platform throughout the following categories:
Pros
Cons
Performance
Design
By the time we finished, it will be more than clear why Magento 2 Commerce should be the number one choice for your online store.
What is Magento 2 Commerce?
Magento 2 Commerce, a widely-used eCommerce platform, is the product of Magento Company, an Adobe Company since 2018. It provides customers and business owners with a one-of-a-kind online shopping experience thanks to its consumer-oriented features that are constantly being developed.
Some of the biggest names in the industry have chosen Magento 2 Commerce as their trusted platform – Nike, Cisco, Procter & Gamble, Honeywell International Inc, Chief Supply, and many others.
Pros
If you are a first-time user, you are in for a treat! Magento 2 Commerce is quite simple to cope with due to the fact that its features are user-friendly.
There are many features that are available exclusively in this platform, some of them being: B2B, Gift Cards, Content Staging, Email Reminders, Gift Registries, Visual Merchandiser, Multiple Wishlists, Store Credit, and many others.
Should you encounter any type of problem, there is an excellent customer support team to offer you a helping hand.
In addition, this eCommerce platform is rich with extensions, themes, and templates, which is probably one of the most important features, since this is the part that is visible to your customers. All of these contribute to the platform's highly customizable layout.
Another great thing about Magento is its strong SEO. The power to easily modify content and make it appealing for your desired customers is invaluable.
Moreover, Magento 2 offers you a highly flexible Admin panel, which provides ease of access that cannot be overlooked. All you have to do is find the right place for extensions of your choice.
All in all, these are some of the reasons why many users and globally known companies chose this platform for their online stores. Furthermore, the platform's hosted software is highly adaptable, which makes it pretty accessible.
Cons
On the other hand, besides free Magento themes, there are also the ones that must be purchased. While some of them are affordable, others can be pretty costly. However, bear in mind that all of these themes are modern, dynamic, and ready to use, which can save you a lot of time in the development process.
Another thing that could be a potential downfall of this platform is the fact that it can require a substantial amount of space and memory, or else it would not be able to perform at its best. This means that it is crucial for future users to be well-equipped technically, in other words, they should own a computer with enough hard drive space and RAM. The bigger the store, the more space and memory it requires.
These facts may represent a dealbreaker for some people, but future online business owners are not supposed to give in that easily. Provided that your plan is to develop an online business, there can be no obstacles on your way to successfully doing so.
Performance
Page Load Time
By now, it is widely known that speed is one of the key Google ranking factors. As far as the page load time of the Magento 2 Commerce platform is concerned, it usually works fine, but at times it can take somewhat longer to load. But don't get alarmed – this problem has several simple solutions. One of the things you can do is to optimize the content of your page:
adjust the size and the number of the displayed images
optimize the headlines and make your content shareable
pay attention to the size of the product catalog
deploy your server's resources appropriately
carefully choose website hosting services
Another thing you can do is use one of the tech tools to help you check the page speed or the performance of a specific page – Google's PageSpeed Insights, Google Analytics, or Webmaster tools. You can also optimize TTFB (Time-to-first-byte) by using a Full Page Cache Engine, like Redis or Varnish, the latter being a default cache engine for Magento 2.
Another very important thing to consider would be a reliable host. It should be Magento-optimized, in order for you to provide the greatest possible speed for your website. Some of the most popular Magento hosting services are MageMojo, A2 Hosting, FastComet, ChemiCloud, Cloudways, and many more. What's more, if your website loads faster, it will result in a lower bounce rate and a higher conversion rate.
Technical Support
As far as the technical support of Magento is concerned, it is simply impeccable! When in need of help, you can choose one of 5 options.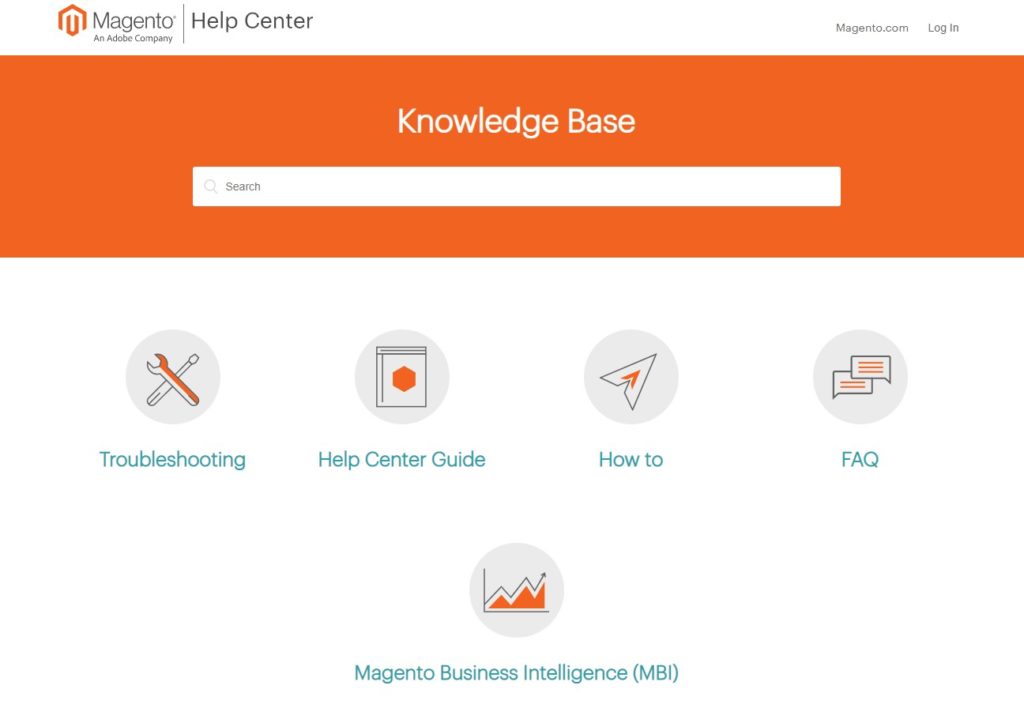 Troubleshooting
If you encounter some difficulties while using the platform, you should look for the solution in Troubleshooting. There are two categories of problems: "General" and "Known Issues (patches attached)". Possible scenarios may include some of the following problems: backup issues, site down, deadlocks in MySQL, Magento Admin URL location disclosed, the wrong date for Special Price, low site and API performance, etc.
Help Center Guide
Help Center Guide is divided into 4 categories: Help Center, Knowledge Base, Support Tickets, and Shared Access. It provides you with the necessary support for finding solutions related to Magento product problems. Just log in and take full advantage of the offered help.
Knowledge Base offers you a selection of helpful articles that can help you answer your everyday questions about Magento-related problems. Magento partners or customers submit support tickets that represent the base for these numerous articles.
As for the support tickets, there are a few ways to submit them. You must log in first, and then you can choose from one of the following options for submitting your support ticket: from the Help Center start page, from the Magento Account page, or from the Magento Cloud Account page.
Finally, Shared Access is a functionality that enables you to share the support tickets from your Magento Account with other users.
How to
How to section provides you with a number of guidelines in the form of articles. Here you can read more about managing your Magento data. For example, you can read more on applying a composer patch provided by Magento, resetting Magento themes to default, switching the Magento mode, enabling Elasticsearch on Cloud, and many other helpful things.
FAQ
FAQ, i.e., Frequently Asked Questions, is the section in which you can find the answers to the questions that Magento customers ask the most. Such questions mostly refer to SSL certificates, Magento 2 certification and training paths, third-party applications, customer coupons, etc.
MBI
MBI is one of the most important functionalities of Magento 2 Platform, and it has been described in one of our previous blog posts.
Just a quick reminder, MBI stands for Magento Business Intelligence, and its job is to help you manage your business data more efficiently. In this section, you can find many useful data concerning this functionality.
To start with, you can start off by reading the key things about MBI in the MBI Essentials section. Then, you can move on to one of many categories concerning Magento Data, Troubleshooting, Magento Services and Analyses, Integration, SaaS data, Report Builder, Charts and Dashboards, Exports and Emails, Analyses Library, etc.
In addition to the documentation, you can watch training videos on Data Warehouse Manager, Report Builders, and webinar videos.
Blogging
Blogging has been playing a huge role in Web development for quite some time now. When it comes to the development and management of online stores, Magento Blog certainly offers more than just a helping hand through carefully selected categories.
Whether you get stuck with a technical issue, or you are in need of a fresh idea for your online store, you can always visit Magento Blog where you can find valuable pieces of advice and tips. The chances are, you will find the right solution to your problem based on other peoples' experiences.
In order to do that, the first thing you need to do is to pick a category of your liking – Best Practices, Customer Stories, Small Business, Market Place, Technical, Events, and Magento News.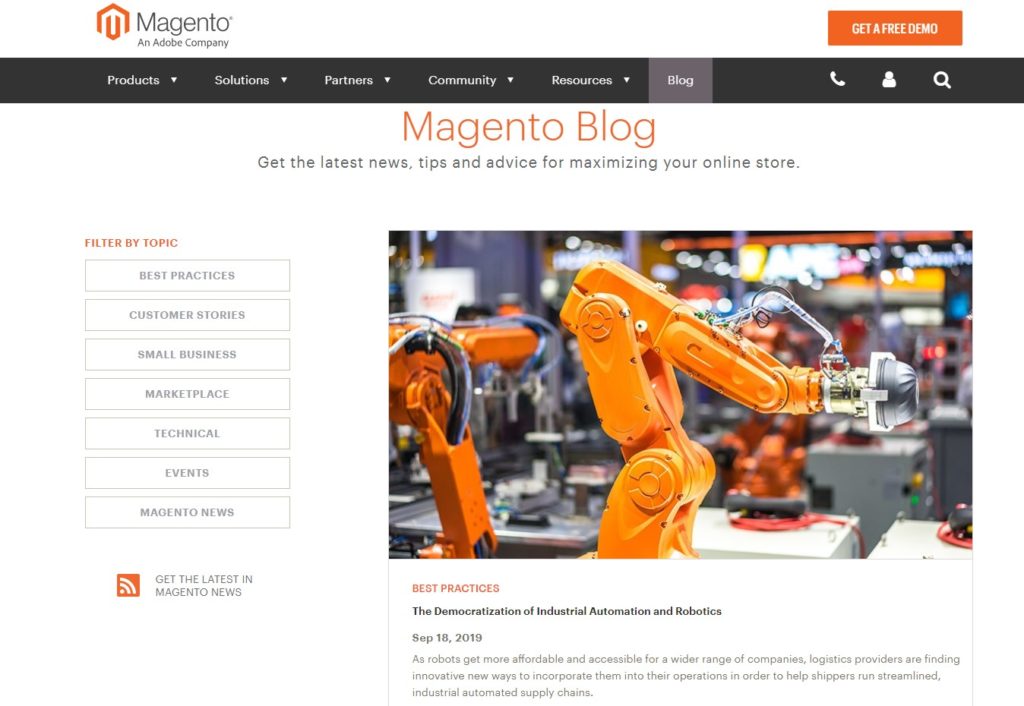 Best Practices
Best Practices offers you advice and viewpoints written by Magento and Adobe experts, i.e., Commerce Strategy Consultants, Senior Managers, Marketing Coordinators, Solution Specialists, Strategic Engagement Managers, and others. These invaluable articles are definitely worthy of your full attention.
Customer Stories
Customer Stories is a category filled with articles written by merchants and Magento employees. Here you can find a number of very interesting Q&A articles where users describe their experience in the world of eCommerce, the digital strategy they have in mind, their expectations in their branch of work, etc.
Small Business
If you are a small business owner, this section is just the source of information you are looking for. Browse carefully through the section and you are sure to find many beneficial tips that can improve your eCommerce experience.
Find out how to use Video Marketing for boosting sales and which eCommerce mistakes to avoid. Also, learn some money-saving techniques, and many more useful things related to the improvement of your business.
Marketplace
The best extensions for boosting your efficiency and productivity and increasing conversions. Moreover, they enable the best customer experience and stimulate your business. You can find these and many more in the Marketplace.
Within this section, you can also find a Developer Diaries Series, which promotes new extensions in the Magento Marketplace.
Technical
In the section Technical, you can read more about the latest innovations within the Magento Community and their contributors.
You can also find captivating articles about Magento Masters. These yearly recognitions for business owners are based on certain categories: Qualified Alumni, Makers, and Mentors.
In addition, this section offers a number of video interviews with some of the Magento Masters. They talk about their experience with Magento, the impact of the Magento Community on their businesses, and other interesting things.
Events
This section provides detailed reports on both previous and upcoming events. These include International Magento and Adobe Conferences, their locations and dates, Magento Award Winners, keynote speakers, and the like.
In case you want to attend a certain upcoming Conference, you can find a registration form in this section. What is more, you can register as a general attendee. Or, you can apply for a merchant discount code provided that you are a qualified Magento merchant.
Magento News
Magento News offers an insight into all of the freshest news concerning Magento and Adobe. You can read articles about the latest Magento features, important Adobe and Magento milestones, innovations in eCommerce, the Magento Association, the Magento Community, and Magento users.
If you subscribe to Magento Newsletter, you will be among the first ones to explore the latest eCommerce news.
Design
Design is one of the key components of your online store since it is one of the first things that a customer notices. It has a huge influence on customers. They might stay on your page longer and explore it. Or, the might leave your page because it lacks an appealing, modern look.
If you want to attract more customers, you should carefully choose the theme for your eCommerce store. Magento 2 Commerce offers you two convenient possibilities. Firstly, you can use Luma, a default Magento theme, which can be further customized based on your needs. Secondly, you can use a Blank theme. It serves as a base for creating a custom theme from scratch. You can combine different layouts, templates, styles, containers, and blocks from the admin panel.
Having a unique and user-oriented design is what separates you from the competition, and something worth spending extra time on. Of course, you can pick the other path. Get one of the many free Magento themes with responsive design and SEO optimization. These are easy to install, edit, upgrade, and customize. Some of them are F2, FreeGo, Pixtron, and BizKick.
Another possibility is to purchase one from a variety of third-party themes. These are fully designed and ready to use. Here are some of them: Fastest, Amaze, Colora, Kavir, and VG. The themes can be found on Magento Marketplace, as well as on other websites.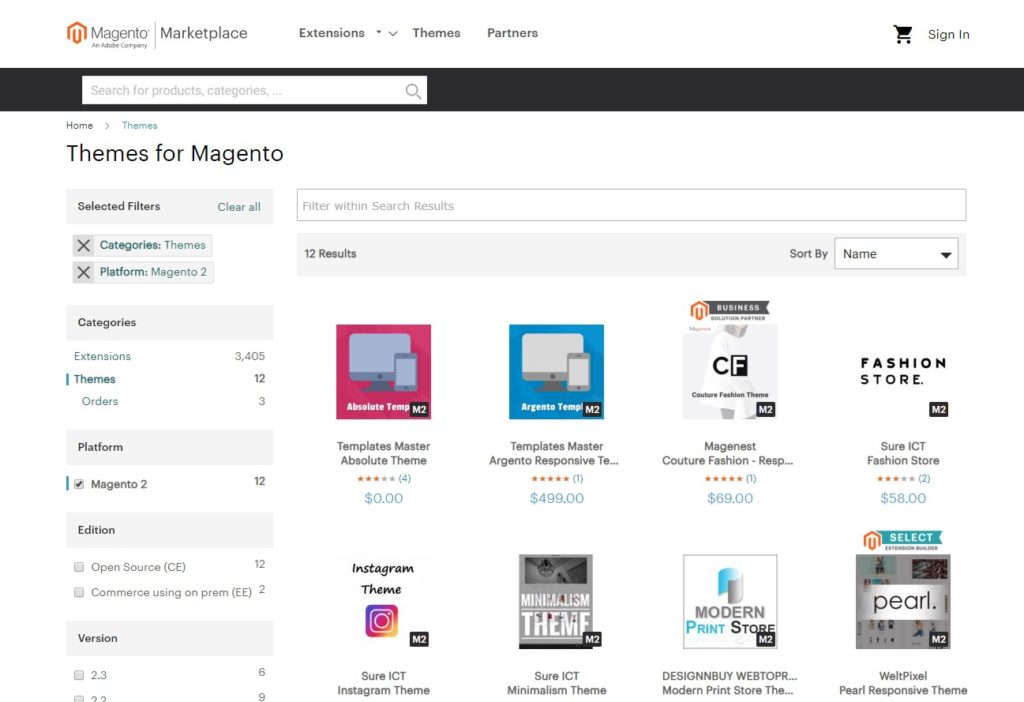 If you need a helping hand on installing a third-party theme or creating a custom theme, use the following links:
Wrap Up
Taking everything into account, we stand by our aforementioned statement. The best platform for developing your online business is Magento 2 Commerce.
Do not miss out on the opportunity to choose one of the most powerful platforms in the industry. As a result, you will get a fully-functional eCommerce store with the possibility of creating a one-of-a-kind design.
Sources